On-Boarding
Mobile applicant process, branded web portals, and compliance priority.
Mobile Benefits
Most applicants use mobile devices to search for jobs, fill out applications and complete much of the hiring process. Having a strong mobile solution means you stay front and center in the process. Using Swifthire with S2Verify, you'll be able to send notices, texts, and take the background check experience mobile.
.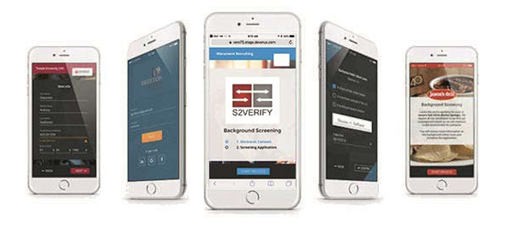 Our approach: Swifthire
With Swifthire, you can use your own logo, colors, and general styles. The app is built to incorporate company branding. You'll be able to create custom packages on the back-end based on job position. The app will dynamically change the forms to request the necessary information. This process ensures you are not wasting the candidates' time and reduces the tendency for errors. Swifthire provides the tools to create required fields with intuitive error handling call outs. The result: correct information the first time.
Speed to hire
You can dramatically increase speed-to-hire by using Swifthire's mobile recruiting capabilities. This puts the application in the candidate's hand. Our advanced automation work-flow allows you to quickly get results, apply quality assurance and report grading.
Audit Assistance
Swifthire uses comprehensive audit trail procedures including digital certificate, user authentication, signature completion, and opt outs.
Improved completion rates
Strike a balance between disclosure, privacy, and ease of use. With thorough research and countless user case studies, Swifthire was built to dramatically reduce information input time and increase completion rates.
Simplicity & ease of mobile background checks.
With Swifthire Mobile, candidates have their own homepage where they can login to complete forms, check status, and track the progress of background checks. These features can streamline workflow, reduce errors, and provide unparalleled communication through the process.
Provide the total applicant experience. Give applicants visibility, transparency and control over their status and valuable information within the Applicant Portal.
Utilize a stable platform that is ready for new enhancements so you can focus on new features rather than maintaining old technology.
Differentiate yourself in a crowded market. Offer unique benefits and functionality to improve candidate experience and speed to hire.
Auto Geo-location consents. Customized and streamlined consents and disclosures based on the applicant's location.
Verify identity & employment authorization.
We offer electronic Employment Eligibility Verification Form 1-9 and E-Verify®: a web-based system that allows employers to confirm the eligibility of their employees to work in the United States. The system electronically matches information provided by employees on the Form 1-9 against records available to the Social Security Administration and the Department of Homeland Security. The electronic Form 1-9 allows for simple completion, storage, and auditing. For more information click here.
Streamline the user experience.
Create a better applicant experience with a smart, seamless hiring process fueled by a custom-branded web portal. The portal provides administrative tools built to help you quickly automate quality assurance, report management, compliance, and integrations.
Tool to stay ahead of compliance challenges.
We deliver features including the electronic form consent builder: a tool that allows customized wording and formatting of your own consent and application forms. Our system also can change the language on any form, application, and consent. Our technology only changes the text to the required language, not the input.
Request a Demo
Learn more about our services and our focus on accurate results—and receive guidance backed by superior experience.